Our History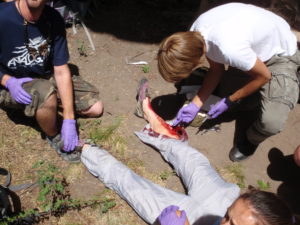 CPR World was established in Telluride, Colorado back in 1998. In those days we had a few CPR mannequins and taught only a hand full of classes a year. Most of those classes were for friends looking for a "bro" deal. Our goal from the beginning has been to provide high quality training, using state-of-the-art equipment at a reasonable price. What's the key to providing high quality training? Utilize dynamic instructors with broad backgrounds and a passion for teaching as the foundation for the company. Our instructors draw upon knowledge from a wide range of professional and personal experience including prehospital medicine, emergency medicine, emergency management, search and rescue, and fire fighting as well as outdoor activities including rock climbing, ice climbing, skiing, white water boating, and scuba diving. We are dedicated to providing hands-on experience in a low stress environment to optimize the learning process and empower our students with knowledge and skills so they can make a difference in an emergency situation.
What We Offer
We offer all levels of CPR and First Aid Certification Courses and a wide variety of Wilderness First Aid (WFA) and Wilderness First Responder (WFR) Courses.  Whether you're a healthcare provider seeking a BLS certification, a childcare worker looking for a Pediatric First Aid course, a safety minded employer looking for a Basic First Aid course, or someone who needs a CPR or First Aid certification for employment, we have a course for you.  For family members who don't need a certification but desire the knowledge and peace of mind around the home we offer Family and Friends First Aid and CPR courses.  If you are a professional guide or outdoor enthusiast, we have complete Wilderness First Aid and Wilderness First Responder courses or can add a "wilderness module" to a Basic First Aid course to fill your needs.  We also offer customized Emergency Medical Responder courses that fulfill DOT and FAA requirements. For EMTs and Healthcare Professionals we offer a Wilderness EMT Upgrade (WEMT). If you need a Bloodborne Pathogens or Universal Precautions course to fulfill a job requirement, we can run it as a stand alone class or add it on to a First Aid or CPR class for a complete package. CPR World is dedicated to providing high quality medical instruction in a low stress environment.  Our experienced instructors utilize a nationally recognized curriculum and state of the art training equipment to make learning easy and fun. CPR World serves the Western Slope of Colorado including the communities of Telluride, Norwood, Naturita, Nucla, Rico, Cortez, Dove Creek, Durango, Ridgway, Ouray, Silverton, Montrose, Delta, Gateway, Gunnison, Crested Butte, Paonia, Hotchkiss, Grand Junction, and beyond. We also serve Eastern Utah including the communities of Moab, Monticello, Blanding, and Bluff. We can design and teach a customized course at your location which fills your needs and fits your schedule.
Products We Carry
CPR World is a Philips AED sub-distributor and offers the lowest online prices for Philips AEDs and accessories. We carry the popular and rugged Philips FRx AED, the simple to operate Philips OnSite AED, and the new Philips FR3 AED. Send us an email or give us a call for the best pricing on all Philips AEDs and accessories. We will beat any advertised price!
Cheers,
Kevin Dunkak